Curious what learners are doing with their new digital literacy skills?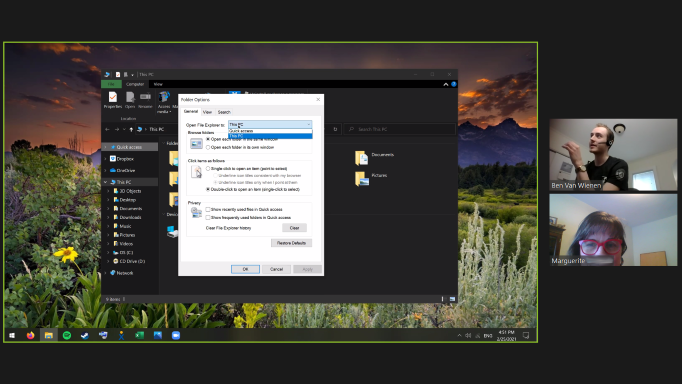 Marguerite
"Working with Ben as a tech educator has been very helpful to me, and literally a lifeline during the Pandemic. His respectful and patient help has provided a level of support that has allowed me to learn at my own pace – exactly what I most needed to focus toward. Often people in our 60's and older are tripped up by an aspect of technology that can slow us down and paralyze our work. Ben's assistance has helped me to tackle Google Docs, Zoom, adding storage, and multiple issues with calendars, web research, and navigating files. While I still get tripped up, I now have more confidence and patience to look online for solutions and take the time to work them through, as this has been modeled by Ben. I have also increased my overall proficiency with issues that were paralyzing before."
How did the CTEP AmeriCorps Member specifically help me personally and professionally?
"I was able to train two other Native women in their late sixties how to use Zoom. Using these skills, we could set up a Native women's cultural group. We prayed together, listened to each other's situations and challenges, and were able to provide support to each other once per month. This group will continue to meet indefinitely.
My work with Ben positioned me to be ready professionally for virtual work opportunities. I was able to secure a contract with the University of Minnesota conducting virtual consulting. This work with Ben allowed me to confidently and competently navigate Zoom with no problems. I was on time to the interview and all meetings with no audio or video issues, which was a great relief, allowing me to provide much needed service to the University during a time of crises."

Princess Kabba
Princess was able to receive a laptop through Interfaith's Technology Assistance Fund, in partnership with local technology provider PCs for People. Since the COVID-19 pandemic has limited the hours that Interfaith's Job Search Computer Lab is open, clients have been able to receive laptops and/or internet access to advance their employment attainment. By receiving a laptop, Princess has been able to continue practicing her digital literacy throughout the week, search and apply for jobs, and continue her English classes all from home.
In December of 2020, Princess gained part-time employment as a Security Officer, which she attributes in part to her increased digital literacy. She is looking forward to this work experience to advance her knowledge towards a position working in the community for a law enforcement agency, whether as a police officer or something related such as doing IT or community outreach for a police department.