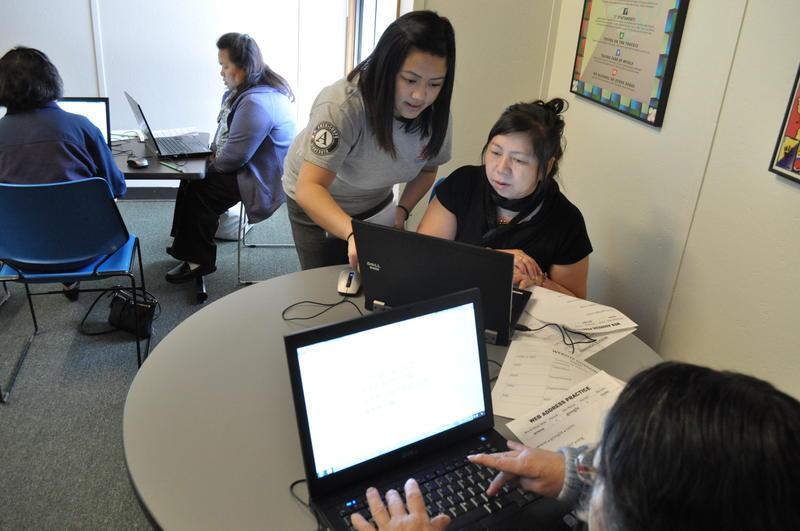 Apply to host a CTEP AmeriCorps member at your site!
SPNN is currently seeking new host sites to sponsor CTEP AmeriCorps members! The CTEP program recruits dedicated individuals from diverse backgrounds to strengthen digital literacy and job skills programming throughout the Twin Cities metro area. CTEP AmeriCorps positions last one year, beginning in September and completing in August.
CTEP typically partners with non-profits, libraries, community centers, and other organizations who serve any or all of our target populations: New Americans, low-income families, and individuals with disabilities. Current partners include St. Paul, Hennepin and Ramsey Country Public Library systems, workforce development nonprofits, youthwork and digital storytelling programs, and various adult basic education consortiums. We do not traditionally partner with for-profit organizations or schools. The ideal partner either already has technology literacy programming or aspires to build technology literacy programming that could be led or expanded by a CTEP member.
Building relationships through community is central to SPNN's vision and impact. The minimum duration of a host site commitment is one year, but it's our hope that partner sites will decide to stay connected in the long term through CTEP or other programming. In our experience, the most impactful CTEP contributions have been those which could develop over the course of multiple years.
Application materials are below. For more information about the expectations and structure of a partnership with CTEP, please review the application instructions carefully. We hope to hear from you!
Twin Cities Site Application Process Timeline for 2021-22

CTEP Host Site Application materials are posted on our website
January 6, 2021
New Sites are encouraged to have an informal phone conversation with CTEP staff before applying
January 6-22, 2021
Application Due Date for renewing and new partners
due Fri Jan 22, 2021
Notification of initial partner acceptance and allocation of member slots:
Fri Feb 5, 2021
Host Site Agreement:
To be signed by April 23, 2021
Member Interviews and Placement:
Feb through Aug 1, 2021 (desired)
Member Starts Service at Your Site
Sept 2, 2021
Member Completes Service at Your Site
Aug 31, 2022
FAQ
Is National Service more like employment or volunteering?
National Service is different from both employment and volunteering. CTEP members receive a biweekly living allowance from the CTEP program, but this is not classified as wages for employment, and National Service is not meant to compete with the job market. A CTEP member's work should supplement the work that site employees do rather than replacing or duplicating employee responsibilities. The CTEP program is designed to support the work that community partners are already doing and leave a lasting impact through capacity building; it is expected that CTEP will not be a long term staffing solution, and CTEP members will train staff in how to take over for them when they leave. Refer to the instructions for more information about the uniqueness of National Service.
What responsibilities does SPNN have in this partnership?
SPNN is the primary contact between the CTEP program and the AmeriCorps. SPNN takes a lead role in recruiting, ensures that members complete background checks, and holds the first interview with each candidate. SPNN sets the format for member reporting and timesheets, and provides accounting advice. SPNN supplies the member's living allowance, health insurance, and workers' compensation. Disputes, performance issues, and so on are handled jointly by the site supervisor and SPNN.
What responsibilities does a site supervisor have in this partnership?
The site is responsible for providing or finding training opportunities for CTEP members so they can develop and learn the skills they need to be successful in their roles. A site supervisor donates a minimum of 15 hours a month to member support. This includes a weekly check-in with the member. Supervisors are required to complete a background check.
Site supervisors are CTEP project partners and assume responsibility for enforcing AmeriCorps policies and explaining aspects of AmeriCorps to other site employees as needed. A supervisor will make a service plan, attend CTEP supervisor meetings, keep informed about what members can and can't count as service hours, and be the only one to assign members tasks. The supervisor also approves member timesheets.
Will a CTEP member have responsibilities outside of the site?
A CTEP member will devote 80% of their service hours to the host site partner. The other 20% of a member's service hours go into member training "Corps Day" events which happen twice a month, and a 75-hour civic engagement project completed over the course of the year. These commitments provide professional development training to the member and encourage a sense of community, resulting in capable members with a strong support network.
How does CTEP track of program effectiveness?
The main way CTEP keeps track of program effectiveness is through Northstar Digital Literacy Assessments, found at digitalliteracyassessment.org. Northstar offers free assessments in nine digital readiness categories which include basic computer, email, and Microsoft word. Starting 2020, customized assessments including digital storytelling are available in addition to Northstar assessments.
Does a partnership with CTEP cost money?
CTEP charges a one-time $9,000 site fee to cover Northstar project sponsoring site fees, to handle program costs, and to improve the member stipend. Refer to the instructions for more information about fees, and ways to manage potential conflict between site and AmeriCorps federal funding
The site is also responsible for reimbursing CTEP member travel to site-related duties in other locations. While sites are not permitted to formally raise a member's salary, sites are encouraged to provide additional support to the CTEP member in the form of discounts on services, professional development training, rent subsidies, and the like.