CTEP Member Activities
All CTEP members must submit biweekly reflections. However, as a CTEP Member you may additionally receive hours for engaging in any one of the following optional activities:
InterCorps Council
Book Club
CTEP Blogging
Life After AmeriCorps
Additional Trainings and Events (Limited)
Independent Service Hours
Bi-Weekly Reflection Surveys
Every two weeks you will submit a Bi-Weekly Reflection. These reflections are a way to communicate with CTEP staff what is going well at your site, what you need assistance with, and to give feedback on Corps Day trainings. These reflections are shared only between CTEP staff and the AmeriCorps member. Our expectation that you try and give as much detail as is helpful to us--there are no right answers--this is your opportunity to think critically about your work and how to move it forward in a more enriching manner. Please plan to set aside 20 or even 30 minutes each reflection to think thoughtfully about these questions, and I guarantee it will pay off in the rest of your week! Time spent working on these reflections may be counted as training hours.
Besides your growth, this is also great way for us as CTEP staff to stay connected to your work and provide the best resources that we can for you. For Corps Day feedback, we may share your thoughts anonymously with any presenters from that day.
One advantage of writing the responses through the member site, is that you can review your past responses. Once you have written more than one reflection, the site will ask you if you wish to view your previous submissions.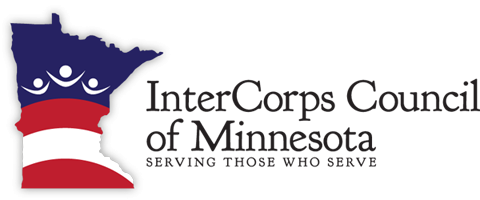 CTEP AmeriCorps Involvement in the InterCorps Council
The InterCorps Council of Minnesota (ICC) is a peer-led organization of AmeriCorps members, representing State, National, and VISTA programs throughout Minnesota. The vision of the InterCorps Council of Minnesota is to promote engagement, communication, collaboration, and education to empower AmeriCorps members and the Minnesota community.
Each year, two CTEP members are chosen to serve as representatives from the CTEP program. These members serve on one of the council's 5 committees, attend monthly meetings, and report on ICC activities, resources and events to the rest of the CTEP cohort. As part of the ICC, members enhance their service year, grow their professional development and leadership skills, and connect to the AmeriCorps community as a whole.
InterCorps Councils:
-Connect and coordinate programs throughout the state
-Network, collaborate, and share resources
-Organize statewide activities and events (service projects)
-Serve as a forum to voice collective opinions and ideas to State Commissions, Program Directors, the Corporation for National and Community Service and others
-Advance leadership skills through workshops and facilitative experiences
-Promote an ethic of service
-Use newsletters and listservs to exchange ideas
-Are supported by State Commissions, the Corporation and national service programs
Be sure to subscribe to Public Spirit, the ICC's monthly newsletter!
CTEP AmeriCorps Book Club
Enjoy reading, but too busy serving the community?
Now you have a great excuse to sit down in your favorite chair with a cup of tea and read leisurely: the CTEP AmeriCorps Book Club!
Earn up to 10 training hours per month! Here's how:
Read a book that relates to the themes of community, technology and the digital divide, tech manuals, educational theory, poverty, multiculturalism, civic engagement, working with the disability community, empowerment, or your host site.
Provide 3 paragraphs:

1) Give a brief summary of the main arguments of the books
2) Explaining how the book directly relates to your AmeriCorps experience
3) Explain why other CTEP AmeriCorps members should read the book (or why not!).
Post your paragraphs in the Book Club forum here!
It's a great way to take responsibility for your professional development, and relax at the same time. You could also use the book club forums to get others reading the book at the same time, or work at your own pace.
Remember that training is limited to 20% of your total hours, and there is a maximum of 10 book club hours, per member, per month. This would include the time that you write your reflection. Of course, you don't have to finish the book in one month. But, if book club will put you over the 20% mark, you won't receive hours for it. Plan ahead!
Please log these book hours all on one day on your timesheet, after you have completed your reflection. This should fall on a day that you are not serving at your site, such as Saturday or Sunday. That way it will not appear that you worked 17 hours in one day (10 hours book report + 7 hours at site), which would appear strange to a reviewer.

CTEP staff will review your reflection and let you know if it is insufficient based on failing to answer the questions above or making enough of a direct connection to your service year. We may ask you to resubmit your reflection, or not count the hours. If you are unsure as to if a book sufficiently relates to your AmeriCorps experience, let CTEP staff know beforehand and we can help you decide.

Enjoy reading and growing!
Life After AmeriCorps
CTEP members may request from CTEP staff to receive up to 10 service hours for efforts related to Life AmeriCorps. Examples include:
Attending Career Fairs
Job Searching
Attending College Information Sessions
CTEP usually has a Corps day in the Spring where members will bring their resumes. Members can receive up to 3 service hours for working on their resumes for this event.
Please check with Lisa or Joel beforehand to ensure that hours can be received.
Additional Trainings and Events
Throughout the year, you may come across events or trainings related to your AmeriCorps service year. You may receive training hours for attending these activities. Remember training may only account for 20% of your total hours. Please check with Lisa or Joel beforehand to ensure that hours can be received.